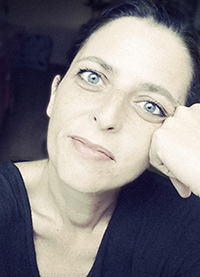 Hi, I'm Rita.
I was born in 1973, in Estoril - Portugal, and graduated in Communication Design
at the Faculty of Fine Arts - University of Lisbon in 1996.
Since then, I work as an illustrator and graphic designer.
On this website, you can see the main
illustration
 projects I have worked on
.
If you also want to see my graphic design portfolio, please contact me!


I will be happy to send you a direct download link to the portfolio file.
Along the years, I've had the chance to work and learn a lot
in many communication agencies in Portugal, where I've held,
along with the graphic design, illustration work applied to the most diverse media:
integrated projects of branding and editorial pieces, illustration for short stories
and articles for several national publications - these are all examples of that.
Since 2006, the editorial work I've done has been focused on children's books' illustration,
in collaboration with various authors, for some national publishers.
In 2010, I have co-founded Frank & Stein brand, a portuguese company that applies
graphic design and illustration, full of stories and humor, in clothing apparel.
This has been a personal and very dear to my heart project, until 2015 -
- when new ideas made me move for more and different projects.
Today, I'm working exclusively as a freelancer illustrator and graphic designer,
for several steady and also occasional clients and projects.